We Have a Genuine Passion for Helping & Connecting People
Creative Event Architects is an Association Management company, serving associations of all types, including trade associations and professional societies, and specializing in board-governed associations or not-for-profit and charitable organizations.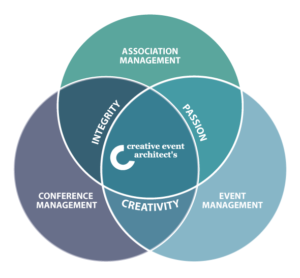 You can leave the administrative tasks of running an association to our professional management staff, allowing your volunteer leaders to focus on achieving their organizational mission.
Creative Event Architects can streamline your operations, create an actionable plan and help to grow your association's membership by using a value-driven focus on your strategic objectives.
By serving as your association's administration, Creative Event Architects becomes a centralized, robust, but cost-effective headquarters. We do this by eliminating your need for a large capital investment into physical administrative resources.
Creative Event Architects delivers a diverse and expert management team who adapts to your changing needs. We support you with a centralized infrastructure, a team of management and operations specialists and offer a you a complete solution for your organization.
If you are interested in learning more or having a discussion with us about your upcoming event, we are happy to hear your ideas. Please get in touch with us.