At Creative Event Architects our goal is to exeed your expectations for your event.
We are passionate about making your guests and attendees feel comfortable, appreciated and welcomed.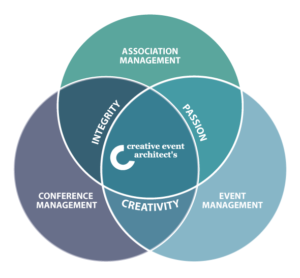 We believe in procurement to get the best possible cost and quality of services for our Clients.
Using the bidding process, as well as performing a cost-benefit analysis, Creative Event Architects constantly strives to receive the best possible pricing for our clients.
Creative Event Architects has a talent for identifying and developing synergies between multiple stakeholders. This is mirrored in the strategies that Creative Relations helps to develop for its clients.
We maintain a high degree of professionalism, interacting on your behalf, whether we are in a board room meeting, educational seminar, negotiating contracts or simply discussing business by telephone or email.
If you are interested in learning more or having a discussion with us about your upcoming event, we are happy to hear your ideas. Please get in touch with us.